---


Why is load bank testing necessary?
Load banking is an essential requirement to ensure that generator owners enjoy the full potential of their emergency backup power equipment and that it will perform as expected when called into service. Since emergency generators must be sized to accommodate the full startup load of a facility, ideally they are sized above the normal operating load if a load management system is not in place. Generators are ideally sized as much as 30 percent over the kW rating of a facility to accommodate the surge of the building and equipment startup load. This situation creates a challenge with diesel-powered generators. Conditions such as wet stacking and carbon buildup in combustion chambers, injector nozzles, piston rings, turbochargers, exhaust piping, and silencers can develop. Wet stacking is best described as unburned fuel that accumulates in diesel exhaust. It can be detected by black seepage around exhaust connections or continuous black exhaust from the stack after warm-up.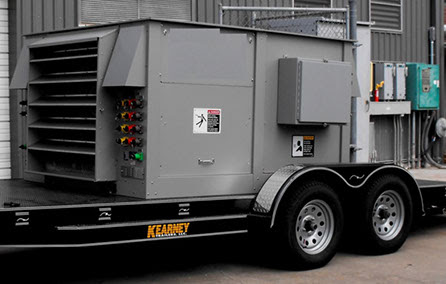 An exhaust gas temperature of 275 degrees Fahrenheit must be maintained to avoid wet stacking. Regular load banking is an important step to minimize exhaust pollution. Wet stacking is common when diesel engines operate for extended periods of time with little or no load applied. To operate at peak efficiency, the engine must be able to provide the proper ratio of fuel and air and maintain the right temperature to burn that fuel completely. EPA requirements have resulted in dramatic improvements in engine design while the use of electronic controls has resulted in increased performance.
Load bank testing should be required to ensure proper installation, adequate cooling at ambient temperature, sufficient fuel delivery, and proper load transfer in your generator. For best performance, load bank testing should be performed annually (for a minimum of two hours) for standby applications. During weekly exercises, the engine will not reach the manufacturer's recommended operating temperatures. The National Fire Protection Association (NFPA 110) has established the standards for monthly maintenance and operation for standby generators that states, "Generators should be exercised monthly at 30 percent of the nameplate rating or loaded to the minimum engine exhaust temperature recommended by the engine manufacturer.
---
Moser Energy Systems recommends load bank testing for:
Testing of new engine generator sets
To reduce "wet stacking" problems
Periodic exercising of standby engine generator sets
UPS system testing
Ground power (towable or portable unit) testing
Load optimization in prime power applications
WE HAVE YOU COVERED.
CUSTOM
POWER
SOLUTIONS
FOR ALL MAJOR INDUSTRIES.
CONTACT US NOW.